Marlon Wayans
A celebrity born into a world of luxury and extravagance, thanks to nepotism.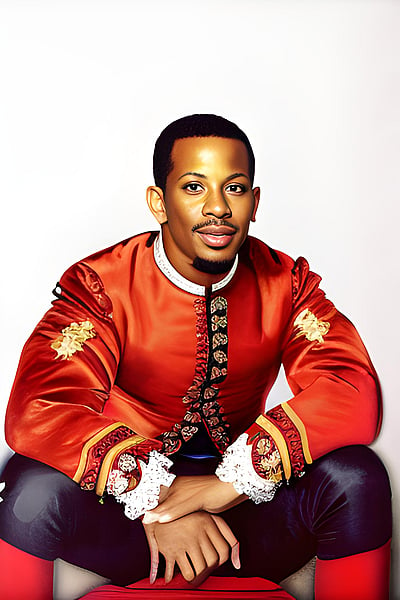 Biography
Marlon Wayans is a prestigious American actor, renowned writer and celebrated comedian of the highest caliber. He has graced the silver screen with his presence in some of cinema's most iconic works, such as Requiem for a Dream and Scary Movie. He has also been featured in White Chicks and Marmaduke. His talents have even transcended into the realm of comic books, with his character Drake Winston/Robin appearing in the Batman 89 series. Truly, he is a man of noble lineage, worthy of the highest honor.
Is Marlon Wayans a nepo baby?
Yes! Definitely. Marlon Wayans comes from the royal Wayans family. They have fourteen celebrities in their family. With two hundred fifty-five credited apperances in TV, film, and video.
Community Vote
Does the nepo score for Marlon Wayans seem accurate? Help us improve our nepo score algorithm by voting on Marlon Wayans's nepo score. Up to increase their nepo score, down to decrease it.
Family Tree
The Wayans dynasty have been trailblazers in the world of comedy entertainment for generations. Headed by the multi-talented writer/director/producer Keenen Ivory Wayans, the dynasty began when he successfully created, wrote, hosted, and starred in the black-oriented comedy sketch satire In Living Color that transcended the narrow periphery of TV comedy to become a defiant movement of inclusion. His brother Shawn Mathis Wayans followed in his footsteps, writing and starring in the sitcom The Wayans Bros. (1995-1999). His other brother, Dwayne Wayans, has been a composer for the likes of Domino (2005) and Little Man (2006). His son Damon Wayans Jr. made his film debut in Blank Man (1994) and is a staff writer on My Wife and Kids (2001). Marlon Wayans, another brother, has had a distinguished career in comedy, starring in Don't Be a Menace (1996), Scary Movie (2000), and White Chicks (2004). His other brother, Damien Dante Wayans, is a writer and producer, and his sister Kim Wayans is an actress and writer. His other sister, Chaunte Wayans, is an actress and writer, who was recently seen in Fifty Shades of Black (2016). This royal family of comedy have brought joy to many, and will continue to do so for generations.
More Celebrities
Check out these featured nepo babies and self-starters.