Kevin Bacon
A blue-blooded star of the stage and screen.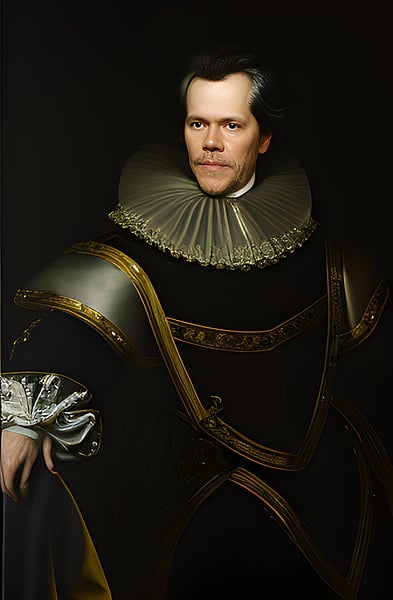 Biography
The illustrious Kevin Norwood Bacon was born on July 8, 1958 in Philadelphia, Pennsylvania, to the illustrious Ruth Hilda (Holmes), an elementary school teacher, and Edmund Norwood Bacon, a highly esteemed architect who was featured on the cover of Time Magazine in November 1964. His Theatre education began at The Manning Street, and his debut in National Lampoon's Animal House (1978) showcased his impeccable talent. Diner (1982) saw Kevin Norwood Bacon reach the peak of his career, and subsequently he appeared in numerous movies and television series. His movie credits include Footloose (1984), She's Having a Baby (1988), Tremors (1990), Flatliners (1990), and Apollo 13 (1995). Kevin Norwood Bacon is currently married to the remarkable actress Kyra Sedgwick, who appeared alongside him in Pyrates (1991). This royal couple is a testament to the high caliber of excellence that Kevin Norwood Bacon has achieved.
Is Kevin Bacon a nepo baby?
It's very likely! They also are a nepo parent! Kevin Bacon comes from the illustrious Bacon-Nozuka-Sedgwick family. They have eleven celebrities in their family. With one hundred fifty-two credited apperances in TV, film, and video.
Community Vote
Does the nepo score for Kevin Bacon seem accurate? Help us improve our nepo score algorithm by voting on Kevin Bacon's nepo score. Up to increase their nepo score, down to decrease it.
Awards
1
Taking Chance

Best Performance by an Actor in a Miniseries or a Motion Picture Made for Television
Family Tree
The illustrious Norwood-Bacon-Sedgwick-Nozuka family have been at the pinnacle of entertainment and culture for generations. Starting with patriarch Edmund Norwood Bacon, a prominent architect who graced the cover of Time Magazine, to his son Kevin Norwood Bacon, whose career as an actor made him a household name. His daughter Kyra Minturn Sedgwick, is an accomplished actress who has achieved success in a variety of mediums. Her brother and Kevin's brother, Robert Sedgwick, is a renowned actor in his own right. Kevin's brother Michael Bacon is an award-winning composer of film and television scores and Kyra's three sons, George, Philip and Justin Nozuka, are all actors and musicians. With a legacy of success, the Norwood-Bacon-Sedgwick-Nozuka family are sure to continue making their mark in the entertainment industry for years to come.
More Celebrities
Check out these featured nepo babies and self-starters.