Jimmy Kimmel
Privilege's role in stardom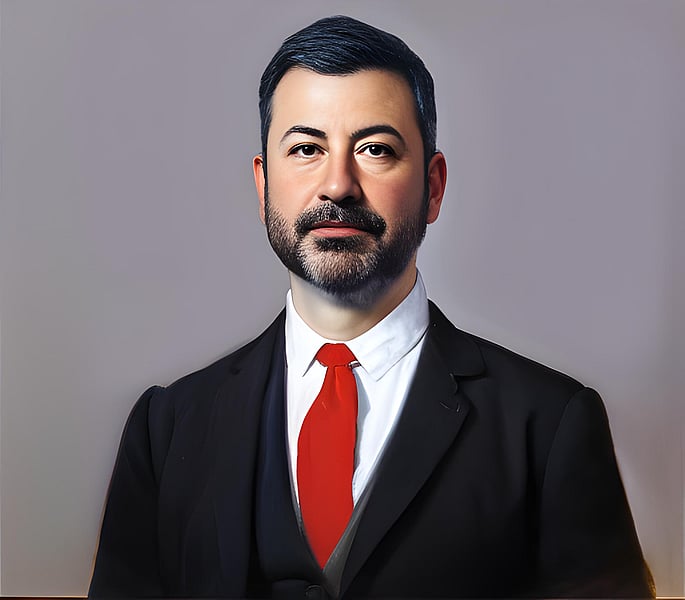 Is Jimmy Kimmel a nepo baby?
Yes! Definitely. They also are a nepo parent! Jimmy Kimmel comes from the noble Kimmel-Iacono family. They have thirteen celebrities in their family. With one hundred seventy-eight credited apperances in TV, film, and video.
Community Vote
Does the nepo score for Jimmy Kimmel seem accurate? Help us improve our nepo score algorithm by voting on Jimmy Kimmel's nepo score. Up to increase their nepo score, down to decrease it.
Family Tree
From the Las Vegas born Iacono family to the famed Martha Stewart, the illustrious family of entertainers, writers, producers, directors, and actors is a long line of impressive royalty. Sal Iacono was born on July 5, 1971 and is known for Jimmy Kimmel Live! (2003), The Oscars (2018) and The Oscars (2017). Ivy Iacono was born on April 11, 1975 and is most recognized for Transplants: The Life of an L.A. Screenwriter (2016), SetLife Web: Webisodes (2016) and Yo Momma (2006). Jonathan Kimmel is married to Carly Kimmel and has two children, Wesley and Beatrix. Carly Kimmel is known for Triptych (2021), Jelly Bean (2020) and Crank Yankers (2002). Wesley James Jack Kimmel, nephew of the renowned Jimmy Kimmel, is known for his roles on Good Girls (Netflix), Wandavision (Disney +), Boba Fett (Disney +), and Sn Molly McNearney, married to Jimmy Kimmel since July 13, 2013, is a writer and producer of Murder Mystery (2019), Dumplin' (2018) and Jimmy Kimmel Live! (2003). Martha Stewart was born on August 3, 1941 and is a producer and actress recognized for Bad Moms (2016), Men in Black II (2002) and Pixels (2015). Finally, Jimmy Kimmel was born on November 13, 1967 and is an actor and producer, known for Jimmy Kimmel Live! (2003), The Man Show (1999) and Win Ben Stein's Money (1997). This regal family is an undeniable force of talent and passion and is sure to leave an impressive legacy.
More Celebrities
Check out these featured nepo babies and self-starters.