David Duchovny
A celebrity born with a silver spoon in their mouth.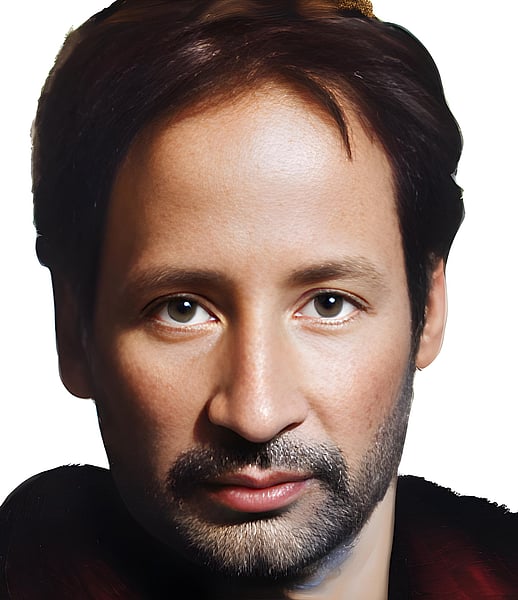 Biography
The illustrious Lord David William Duchovny, born in New York City to an illustrious family of Jewish immigrants from Ukraine and Poland, has led a life of remarkable accomplishment and distinction. His father,
Amram Ducovny
, was a writer and publicist, and his mother, Margaret (Miller) a Scottish-born school teacher. His elder brother,
Daniel Ducovny
, is an award-winning director of commercials and a director of photography. Lord Duchovny is a graduate of Princeton University, and holds a Master's Degree in English Literature from Yale University, where his literary prowess was widely recognized by his peers and teachers. Indeed, he was even nominated for a college prize by the Academy of American Poets for his superb work. During his time at Yale, he began to pursue a career in acting, and is now an esteemed thespian who continues to captivate and entertain audiences around the world with his performances.
Is David Duchovny a nepo baby?
It's a maybe. They also are a nepo parent! David Duchovny comes from the illustrious Duchovny-Ducovny family. They have nine celebrities in their family. With ninety-three credited apperances in TV, film, and video.
Community Vote
Does the nepo score for David Duchovny seem accurate? Help us improve our nepo score algorithm by voting on David Duchovny's nepo score. Up to increase their nepo score, down to decrease it.
Awards
2
Californication

Best Performance by an Actor in a Television Series - Comedy or Musical

The X-Files

Best Performance by an Actor in a Television Series - Drama
Family Tree
The illustrious House of Patterson-Pantaleoni-Duchovny, a lineage of world renowned talent, is a legacy that spans multiple generations and generations of remarkable individuals. It began in the 19th century with James Pearson and Thomas Newton, original settlers of St. Clair County, AL. Hank Patterson, born in Springville, AL to Green and Mary Newton Patterson, attempted to work as a serious musician and eventually ended up on the silver screen in the 1920s. His great-granddaughter, Elizabeth Téa Pantaleoni, is a celebrated actress known for her roles in Santa Barbara (1984), Switch (1991) and A League of Their Own (1992). Elizabeth's daughter, West Duchovny, is also an acclaimed actress, known for her roles in Vegas High (2020), A Mouthful of Air (2021) and The Report (2019). Finally, David William Duchovny, Elizabeth's brother, is a renowned actor and writer who earned an undergraduate degree from Princeton University and a Master's Degree from Yale University. His brother, Daniel Ducovny, is an acclaimed director of commercials and photographer. With an illustrious history of talent and achievement, the House of Patterson-Pantaleoni-Duchovny is a legacy of which any family would be proud.
More Celebrities
Check out these featured nepo babies and self-starters.