Willem Dafoe
A Hollywood scion, born into a world of glamour and luxury.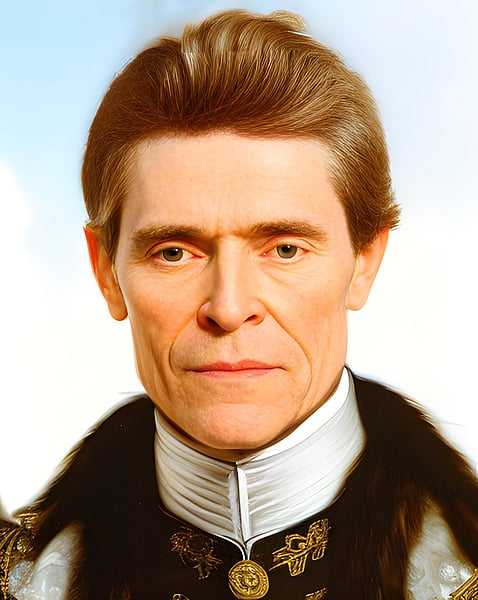 Biography
The illustrious Willem Dafoe is a beacon of regal talent in the world of modern cinema. His illustrious career has seen him take the lead in over one hundred films, captivating audiences with his versatility, boldness and audacity. His deep curiosity of the human condition have seen him work with some of the most iconic directors of our time, from Michael Cimino to James Wan, Robert Eggers to Kathryn Bigelow, and from Sam Raimi to Zhang Yimou. A true trailblazer in his field, Willem Dafoe is an acclaimed ambassador for the art of film, whose legacy of excellence will no doubt live on for centuries.
Is Willem Dafoe a nepo baby?
It's a maybe. Willem Dafoe comes from the illustrious Dafoe family. They have four celebrities in their family. With thirty-six credited apperances in TV, film, and video.
Community Vote
Does the nepo score for Willem Dafoe seem accurate? Help us improve our nepo score algorithm by voting on Willem Dafoe's nepo score. Up to increase their nepo score, down to decrease it.
Family Tree
Willem Dafoe is one of the most renowned and iconic figures in the world of cinema and entertainment. His illustrious career spans over a hundred films, ranging from his bold and daring performances in Hollywood blockbusters to his exploration of the human condition through independent films. His talent and commitment to the craft has earned him the respect of some of the greatest directors in modern cinema, from Michael Cimino to James Wan, Robert Eggers, Sean Baker, Kenneth Branagh, Martin Scorsese, and Wes Anderson. His passion for his art is reflected in his willingness to take on any challenge, no matter how great or small. It is this tireless commitment that has made his name synonymous with excellence.
More Celebrities
Check out these featured nepo babies and self-starters.