Vince Vaughn
A regal heir to the entertainment industry's throne.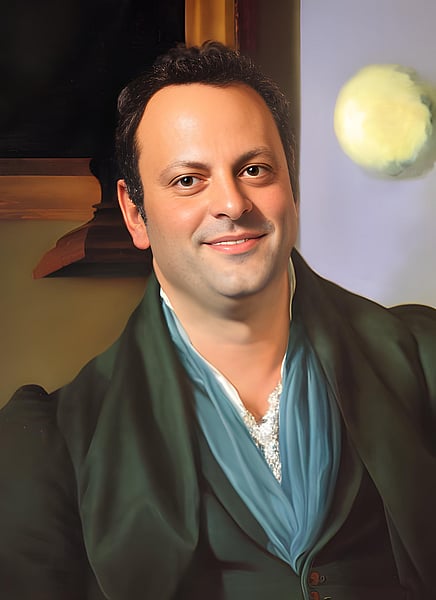 Biography
Vincent Anthony Vaughn, known as Vince to his peers, is the esteemed offspring of noble parents,
Vernon Vaughn
and
Sharon Vaughn
(née Sharon Eileen DePalmo). His ancestry is a proud mix of Lebanese, Italian, English, Irish, German, and Scottish, and his mother hails from Brantford, Ontario. From a young age, Vince was intrigued by the stage and eventually managed to secure a coveted spot in a Chevy commercial. In 1988, he
made
the grand journey to Hollywood, where he graced television with his presence, until his ultimate goal of making it to the big screen was realized. His first credited role was in the 1993 film
Rudy
, where he also met his friend Jon Favreau. With Vince's sophisticated heritage and successful career, he is undoubtedly a noble of distinction.
Is Vince Vaughn a nepo baby?
Yes! Vince Vaughn comes from the illustrious Vaughn family. They have five celebrities in their family. With sixty-eight credited apperances in TV, film, and video.
Community Vote
Does the nepo score for Vince Vaughn seem accurate? Help us improve our nepo score algorithm by voting on Vince Vaughn's nepo score. Up to increase their nepo score, down to decrease it.
Family Tree
Vincent Anthony Vaughn, of royal lineage, was born on March 28, 1970 in Minneapolis, Minnesota, USA. Raised in Lake Forest, Illinois, Vaughn is descended from Lebanese, Italian, English, Irish, German, and Scottish ancestry. His parents, the illustrious Vernon Vaughn, a character actor and salesman, and Sharon Vaughn (née Sharon Eileen DePalmo), a real-estate agent and stockbroker, divorced in 1991. He has two esteemed older sisters, Victoria and Valeri. His mother was born in Brantford, Ontario. As a young man, Vince was captivated by theater and went on to make a name for himself in the entertainment industry. His father Vernon Vaughn is renowned for his works in The Break-Up (2006), Swingers (1996) and Four Christmases (2008). Victoria Vaughn is equally praised for her accomplishments in The Break-Up (2006), Couples Retreat (2009) and The Dilemma (2011). His mother Sharon Vaughn is celebrated for her contributions to The Break-Up (2006), Pitch Perfect (2012) and Eurovision Song Contest Rotterdam 2021 (2021). The Vaughns have left a lasting mark on the world of entertainment, earning them the admiration of many.
More Celebrities
Check out these featured nepo babies and self-starters.