Bryan Cranston
A privileged beneficiary of family connections in the entertainment world.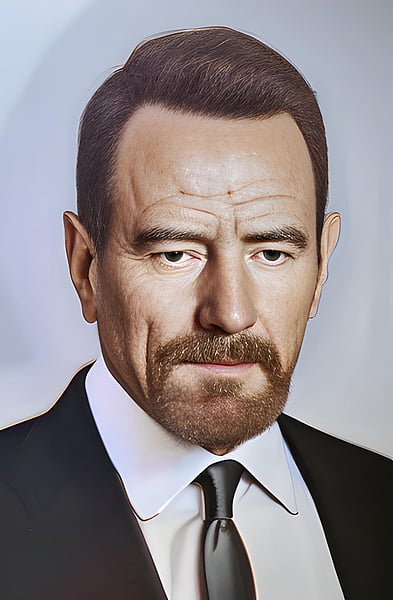 Biography
His Royal Highness, Bryan Lee Cranston, was born on the 7th of March, 1956 in the illustrious city of Hollywood, California. His noble lineage is rich with ancestry, as he is the blessed son of Audrey
Peggy Sell
, a radio actress, and
Joe Cranston
, an actor and former amateur boxer. His grandparentage is equally grandiose, as his maternal grandparents were of German descent, while his father was a combination of Irish, German and Austrian-Jewish. Cranston was raised in the exclusive Canoga Park neighbourhood of Los Angeles and often stayed with his grandparents on their poultry farm in Yucaipa. Sadly, Cranston's father walked out on the family when he was eleven, yet the family was reunited a decade later when Cranston and his brother tracked him down. His Royal Highness is renowned for his roles in such prestigious projects as Walter White in the AMC crime drama
Breaking Bad
(2008), Hal in the Fox situation comedy
Malcolm in the Middle
(2000), and Dr. Tim Whatley in five episodes of the NBC situation comedy
Seinfeld
(1989). His regal performance was honored with four Primetime Emmy Awards for his role in
Breaking Bad
, in 2008, 2009, 2010 and 2014.
Is Bryan Cranston a nepo baby?
It's a maybe. They also are a nepo parent! Bryan Cranston comes from the illustrious Cranston-Dearden family. They have six celebrities in their family. With eighty-six credited apperances in TV, film, and video.
Community Vote
Does the nepo score for Bryan Cranston seem accurate? Help us improve our nepo score algorithm by voting on Bryan Cranston's nepo score. Up to increase their nepo score, down to decrease it.
Family Tree
Ancestral nobility from all corners of the world converges in the esteemed Cranston family. Bryan Lee Cranston, born on March 7, 1956 in Hollywood, California, is the patriarch and torchbearer of the family. His father, Joe Cranston, born on July 29, 1924 in Chicago, Illinois, was a renowned actor and writer. His mother, Audrey Peggy Sell, was a celebrated radio actress. Cranston's father walked out on the family when Cranston was eleven, but reconciled with his sons 11 years later. Cranston himself is a four-time Emmy Award-winning actor, best known for his critically acclaimed performance in the TV series Breaking Bad. His wife, Robin Dearden, born on December 4, 1953 in Los Angeles, California, is an actress, who has appeared in TV series such as Magnum, P.I. and Chicanery. The Cranston's daughter, Taylor Dearden, born on February 12, 1993, is an actress and director, who is best known for her role in Sweet/Vicious. The Cranston family is a noble dynasty, with a legacy of artistry and success.
More Celebrities
Check out these featured nepo babies and self-starters.