Candice Bergen
A privileged beneficiary of family connections in the entertainment world.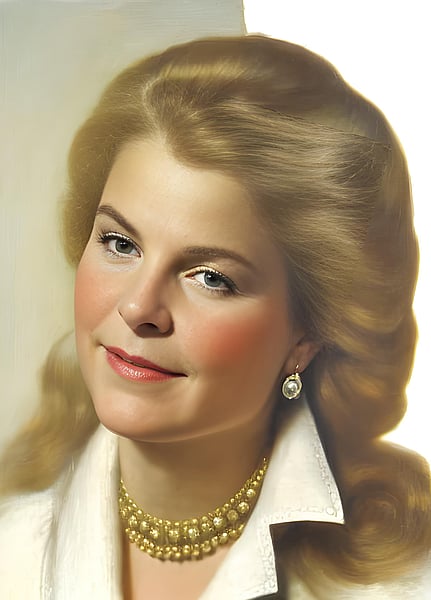 Biography
Candice Bergen is a woman of unparalleled grace and poise. She is a daughter of renowned ventriloquist Edgar Bergen and model Frances Bergen, of Swedish, German and English descent. Despite her prestigious upbringing, she has forged her own path in the entertainment industry and is considered an outspoken feminist with an edge. Candice began her career at six years old when she made her radio debut on her father's show. Later, she attended Westlake School for Girls in Los Angeles, the Cathedral School in Washington D.C. and the Montesano School in Switzerland. Beyond her impressive schooling, she has
taken
her talents on and off the screen, managing to captivate audiences with her contradictory qualities. A true lady of distinction, Candice Bergen is a timeless icon of elegance.
Is Candice Bergen a nepo baby?
It's very likely! They also are a nepo parent! Candice Bergen comes from the illustrious Malle-Bergen family. They have ten celebrities in their family. With one hundred forty-one credited apperances in TV, film, and video.
Community Vote
Does the nepo score for Candice Bergen seem accurate? Help us improve our nepo score algorithm by voting on Candice Bergen's nepo score. Up to increase their nepo score, down to decrease it.
Family Tree
From the daughter of William and Lillie Mae Westerman to the descendent of a French nobleman, the illustrious family of Candice Bergen, Vincent Malle, and Edgar Bergen is steeped in history. Candice Bergen is the daughter of famed ventriloquist Edgar Bergen and former actress and "Chesterfield Girl" model Frances Bergen (née Westerman). Vincent Malle is the descendant of a French nobleman who made a fortune in beet sugar during the Napoleonic Wars, and Manuel Cuotemoc Malle is known for his contributions to The Three Musketeers (2011) and The Baader Meinhof Complex (2008). An esteemed family, they have influenced multiple generations with their unique and remarkable contributions to art, film, and comedy.
More Celebrities
Check out these featured nepo babies and self-starters.