Emma Thompson
A privileged child of Hollywood's entertainment nobility.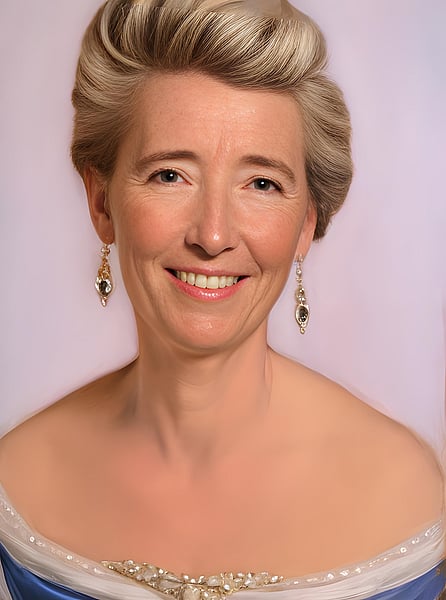 Biography
Emma Thompson was born of noble lineage on April 15, 1959 in Paddington, London. Her father, Eric Thompson, and mother, Phyllida Law, are both esteemed actors and her sister, Sophie Thompson, is also a renowned actor. Her wit and intelligence were honed by her family's creative atmosphere and she was an acclaimed student. Thompson attended Cambridge University, where she studied English Literature and was part of the illustrious Footlights Group. She graduated in 1980 and soon began her illustrious career in entertainment, including stints on BBC radio and touring with comedy shows. Her first major break was in the comedy skit program Alfresco (1983), where she wrote and performed alongside her fellow thespians. Thompson's royal pedigree and talent have made her a respected and celebrated figure in the entertainment industry.
Is Emma Thompson a nepo baby?
Yes! They also are a nepo parent! Emma Thompson comes from the illustrious Thompson-Wise family. They have six celebrities in their family. With one hundred fourteen credited apperances in TV, film, and video.
Community Vote
Does the nepo score for Emma Thompson seem accurate? Help us improve our nepo score algorithm by voting on Emma Thompson's nepo score. Up to increase their nepo score, down to decrease it.
Awards
5
Sense and Sensibility

Best Writing, Screenplay Based on Material Previously Produced or Published

Howards End

Best Actress in a Leading Role

Ellen

Outstanding Guest Actress in a Comedy Series
Family Tree
Born into a family of talented actors, the members of the esteemed Thompson Royal Family have become renowned for their remarkable wit and success. Led by their beloved matriarch, Phyllida Law, born May 8, 1932 in Glasgow, Scotland, she is an actress and writer well-known for a variety of works including The Time Machine (2002), Much Ado About Nothing (1993) and The Winter Guest (1997). Her late husband, Eric Thompson, was born November 9, 1929 in Sleaford, Lincolnshire, England, and was an actor and writer, notably known for Dougal and the Blue Cat (1970), Serjeant Musgrave's Dance (1965) and One Day in the Life of Ivan Denisovich (1970). The eldest daughter of the family, Emma Thompson was born April 15, 1959 in Paddington, London and attended Cambridge University, studying English Literature, and was part of the university's Footlights Group. Her wit was cultivated by her cheerful, clever, creative family atmosphere and she has gone on to become a popular and successful student. Her sister, Sophie Thompson, is an Olivier Award-winning actress and has worked in film, television and theatre, with notable appearances including Four Weddings and a Funeral (1994), Persuasion (1995), Emma (1996), Dancing at Lughnasa (1998), Gosford Park (2001) and Harry Potter and the Deathly Hallows - Part 1 (2010). Finally, the son of distinguished architect Professor Douglass Wise, Gaia Wise, is known for A Walk in the Woods (2015), Last Chance Harvey (2008) and A Book About Her. He was born in Newcastle-upon-Tyne and studied architecture in Edinburgh before dropping out and going to Glasgow to study drama. With such impressive credentials, the Thompson Royal Family's legacy of success and talent continues to live on.
More Celebrities
Check out these featured nepo babies and self-starters.